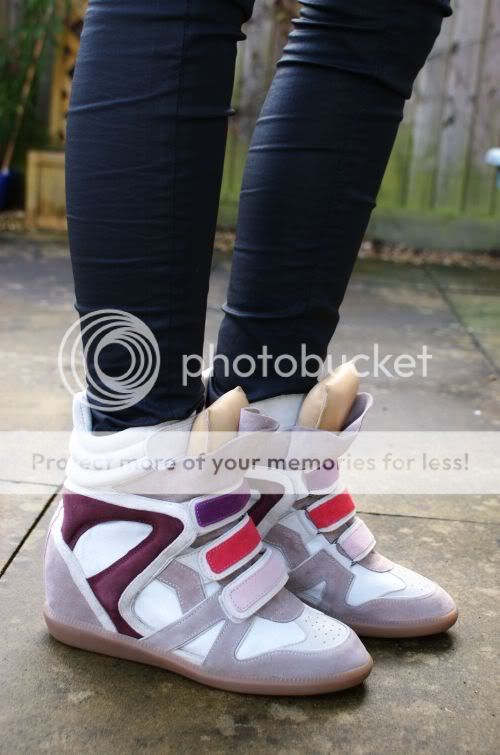 I realise that my recent posts have been obsessively fixated on the adoration of, hunt for and finally acquisition of said Isabel Marant Willow sneakers. I'm sorry. But this is how I become when I fall in love with an item of clothing - like a woman possessed.
Anyway, my beloved Willow sneakers arrived yesterday and I spent the rest of the day bouncing around the house in them. When I first laid eyes on the resort collection, I was instantly drawn to this colourway so I stuck with my instincts. I'm currently at my parents' house, and, whilst I do tend to carry my whole wardrobe around with me, the items I really wanted to pair these bad boys with are back in London. I'm dreaming about wearing them with silver jeans/pastel pink jeans/cream knits etc. but for now a pair of waxed jeans and my trusty Isabel Marant hoodie (which I've had since September but neglected to blog) will do nicely.
Posted a sneak peek of the little devils on my Facebook yesterday and opinion is divided. Most of my fashion friends love 'em (although I also know of a few who don't), and boys seem to be perplexed by them. One said 'They look like they've been wrapped up', another said 'They look like trainers I would draw or what would happen if you gave a pair of trainers and some crayons to a child', and a friend's boyfriend put it simply: 'truly horrendous'. I totally understand why they polarise opinion but I don't care - this is TRU LUV guys! I think you can actually see it in my smug little face:
Wearing: Isabel Marant Willow sneakers, Zara waxed skinny jeans, Isabel Marant hoodie and Monki ying yang t-shirt.
(Tips for prospective buyers: they ARE true to size. But remember, they have French sizing, which is roughly one size smaller than Italian. Eg. I am usually a IT38 and I am a FR39 in the Willows. Oh, and they come with a VERY sticky sticker stuck to the suede inside - ANNOYING - which miraculously comes off by using a rubber/eraser gently.)