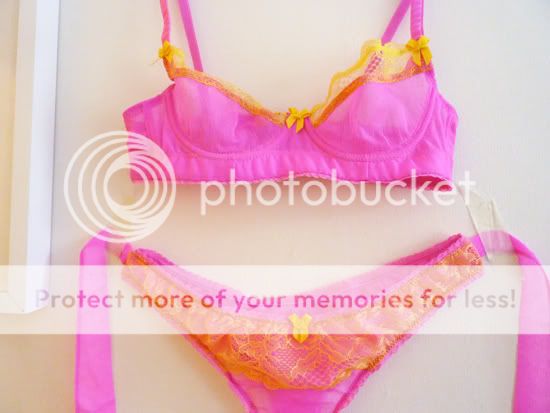 Being a proud member of the Little Tittie Committee (despite receiving a recent slew of emails announcing 'Big boobs are beautiful!' - thanks for the ego boost, nameless PR company), I stay loyal to a few select brands that cater for those small of bosom. These include American Apparel (love the soft cup bras), Calvin Klein (but only SOME of the bras - no balconette business), and Mimi Holliday. In fact, I loved a bra by the latter so much once that I bought it in three colours.
Anyway, my most recent Mimi set from fab new lingerie e-shop MEME is so pretty I almost didn't want to take it down from my wall after I shot it for the old blog. But obviously I did, because bras on walls just aren't socially acceptable.
Mimi Holliday bra and knickers, both available at MEME.